Jill
1 millimetre = 0.0393700787 inches
1 inch = 25.4 millimetres
Canon EOS 7D Modes and Menus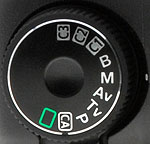 The Mode dial on the left side of the Canon EOS 7D's top panel lets you select various exposure modes, with the same modes offered as the 5D Mark II. Targeted at professionals and serious enthusiasts just like the 5D Mark II, the EOS 7D does not offer any Scene modes, but it does offer the new Creative Auto (CA) mode (see description below). Other settings consist of Full Automatic, Programmed Auto Exposure, Shutter Priority, Aperture Priority, full Manual Exposure, and Bulb. There are also three Camera User settings, for registering up to three banks of settings for quick recall.
Here's a description of each of the shooting modes:

Full Automatic Mode: Full Automatic is indicated on the Mode dial by a green rectangular outline. In this mode, the camera makes all exposure decisions with the exception of image quality. Autofocus mode is set to AI Focus. (AI Focus evaluates subject movement, automatically sets either one-shot AF or AI Servo AF automatically.) Drive mode is set to Single Shot, ISO is set to Auto, and the metering mode is set to Evaluative.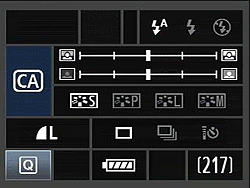 Creative Auto Mode: Canon has added their relatively new exposure mode called Creative Auto (or "CA"). The CA mode is a cross between the green zone and program mode. When set to CA mode, the EOS 7D allows the user to adjust picture style, motor drive, and exposure compensation, as well as to use the program shift function and select between RAW or JPEG file formats, but the rest of the more complex features remain under automatic control. The EOS 7D's rear-panel LCD display offers text help for each setting while in CA mode, for example prompting the user as to whether they want to blur the background with program shift, or make the picture brighter / darker with exposure compensation, etc.


Program AE: This is the first mode in the Creative Zone of the Mode dial. Program AE works similarly to the Full Automatic exposure mode, but allows more control over the exposure variables. Aperture and shutter speed are automatically selected by the camera, but you can bias the exposure to larger or smaller apertures by turning the Main dial, which will change the combination of aperture and shutter speed so as to maintain the same exposure value, but with a different combination of aperture/shutter speed.

Shutter-Priority AE: This mode allows you to manually set the shutter speed anywhere from 1/8,000 to 30 seconds, while the camera chooses the best corresponding aperture setting. You have control over all other exposure variables, including exposure compensation.

Aperture-Priority AE: The opposite of Shutter-Priority mode, Aperture-Priority AE allows you to set the lens aperture (with available apertures depending on the lens in use), while the camera selects the most appropriate shutter speed. Again, you have control over all other exposure variables, including exposure compensation.
A Custom menu setting enables a "Safety Shift" option, which automatically adjusts the primary variable (shutter speed or aperture) in Tv or Av mode, if the setting you've selected won't permit a good exposure under the current lighting conditions. This could come into play if you were shooting in shutter-priority mode to achieve a motion-blur effect, but the light suddenly got brighter, pushing the required aperture value beyond what the lens could provide. In this situation, the camera would automatically boost the shutter speed the minimum amount needed to achieve a good exposure.

Manual Exposure: This mode provides the same range of exposure control as the other Creative Zone exposure modes (except for exposure compensation), but lets you control both shutter speed and lens aperture independently.

Bulb: In this mode, the shutter stays open as long as the shutter button is pressed. This is useful for long exposures such as night scenes, fireworks, and astrophotography. The top Status display reports the elapsed time, from one to 999 seconds, as the exposure progresses. The use of an RS-80N3 Remote Switch or TC-80N3 Timer Remote Controller is recommended.

,
,
Camera User Settings Modes: These three final settings on the Mode dial allow you to save three individual sets of camera settings for quick recall. Useful when shooting an event with multiple light sources, such as a wedding and reception, these custom modes let you register camera settings for specific conditions and easily shift between modes. You can save most of the camera's shooting mode options as well as the Custom Function settings. Settings are registered as C1, C2, or C3 through the Camera User Setting menu.
Playback Mode


This mode is entered by pressing the Play button on the back panel. Playback mode lets you erase images, protect them, or set them up for printing on DPOF-compatible devices. You can also view images in an index display, enlarge images, view a slide show of all captured images, or rotate an image. The Info button activates an information display, which reports the exposure settings for the image and graphs the exposure values on a small histogram.
Canon EOS 7D Menu Details
Below are Canon 7D menu options and their descriptions.
Record Menu 1: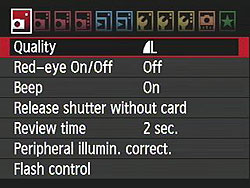 Record Menu Options: Screen 1

Top-Level
Selection

Second-Level

Third-Level

Notes

Quality

-18M Fine
5184 x 3456
-18M Normal
5184 x 3456
-8.0M Fine
3456 x 2304
-8.0M Normal
3456 x 2304
-4.5M Fine
2592 x 1728
-4.5M Normal
2592 x 1728
-RAW + JPEG
-RAW
-MRAW (3888 x 2592)
-SRAW (2592 x 1728)
-MRAW + JPEG
-SRAW + JPEG

Select image size and quality combination.

The EOS 7D has two smaller RAW options, MRAW and SRAW.

You can select any size and quality JPEG when shooting RAW + JPEG or MRAW + JPEG or SRAW + JPEG.

Red-eye On/Off

-Off
-On

Enables/disables red-eye reduction flash mode.

Beep

-On
-Off


Turns all camera beep sounds on or off

Release Shutter Without Card

-On
-Off

If on, the camera will fire the shutter even without a memory card

Review Time

-Off
-2 sec.
-4 sec.
-8 sec.
-Hold

If off, the camera does not display the captured image after capture, otherwise the image appears for the designated time.

Hold setting displays the image until the auto power off time elapses.

Peripheral Illumination Correction

-Enable
-Disable

If on, the camera corrects for corner shading "vignetting" in JPEGs, depending on which lens is detected (therefore, probably won't work with third-party lenses).

Flash Control

-Flash Firing


-Enable
-Disable

Enables/Disables built-in or external flash.

-Built-in Flash Func. Setting

-Flash mode
(E-TTL II, Manual, Multi)
-Shutter sync.
(1st curtain, 2nd curtain, Hi-speed)
-Flash exp. comp.
(-3 to +3 EV)
-E-TTL II
(Evaluative, Average)
-Wireless func.
(Disable, Ext:Int, Ext, Ext+Int)

Controls a wide range of flash functions.

New for the 7D is wireless support for 3 groups with 4 channels.

Wireless options let you select whether the internal flash or an external Speedlite controls the wireless remotes

-External Flash Func. Setting

-Flash Mode
-Shutter Sync
-FEB
-Flash Exp. Comp.
-E-TTL II

Available options depends on flash model attached.

-External Flash C.Fn. Setting

Available options depends on flash model attached.

-Clear Ext. Flash C.Fn. Set

-Enable
-Disable
Record Menu 2: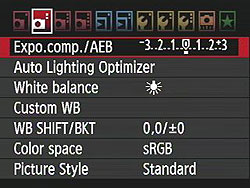 Record Menu Options: Screen 2

Top-Level
Selection

Second-Level

Third-Level

Notes

Exposure Comp./AEB (Auto Exposure Bracketing)

-Select EV variable


Maximum span for a single series is +/-5 EV, but you can now go up to 4 stops darker or brighter from the recommended exposure.

Auto Lighting Optimizer

-Disable
-Low
-Standard
-High

Sets the ALO level.

White Balance

-Auto
-Daylight
-Shade
-Cloudy
-Tungsten
-Fluorescent
-Flash
-Custom
-Kelvin Temperature (2,500 to 10,000)

Custom WB

-Choose image for reference, then set white balance

White Balance Shift/BKT

-Set the color shift on a two-dimensional grid (Green/Magenta, Blue/Amber)

- Choose bracket (+/-3 Magenta and Green, +/-3 Blue and Amber)


Color Space

-sRGB
-Adobe RGB

Picture Style

-Standard
-Portrait
-Landscape
-Neutral
-Faithful
-Monochrome
-User Def. 1
-User Def. 2
-User Def. 3

-Sharpness (arbitrary units from 0 to 7)
-Contrast (9 units from - to +)
-Saturation (9 units from - to +)
-Color Tone (9 units from - to +)

Monochrome has Filter and Toning effect instead of Saturation and Color Tone.
Record Menu 3: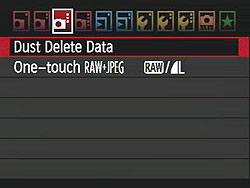 Record Menu Options: Screen 3

Top-Level
Selection

Second-Level

Third-Level

Notes

Dust Delete Data

-Cancel
-OK

Captures a reference image for the dust reduction system, showing where dust is present on the sensor. Dust shadows can then be automatically removed from the images when they're processed through Canon's software.

One-touch RAW+JPEG

-Simultaneous RAW

-RAW
-MRAW
-SRAW

Defines how the RAW+JPEG button works.

-Simultaneous JPEG

-Large/Fine
-Large/Normal
-Medium/Fine
-Medium/Normal
-Small/Fine
-Small/Normal
Record Menu 4: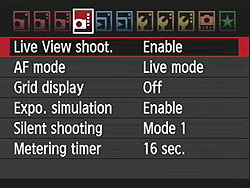 Record Menu Options: Screen 4

Top-Level
Selection

Second-Level

Third-Level

Notes

Live View Shooting

-Enable
-Disable

AF Mode

-Live mode
-Face Detect Live mode
-Quick mode

Live modes use imager data to determine focus, while Quick mode uses the phase-detect AF module.

Grid Display

-Off
-Grid 1
-Grid 2

Exposure Simulation

-Enable
-Disable

Silent Shooting

-Mode 1
-Mode 2
-Disable

Mode 1 reduces shutter noise by leaving the first shutter curtain open, emulating its function electronically. Mode 2 spreads the sounds out, not re-opening the shutter until you release the shutter button.

Metering Timer

-4 sec.
-16 sec.
-30 sec.
-1 min.
-10 min.
-30 min.

Playback Menu 1: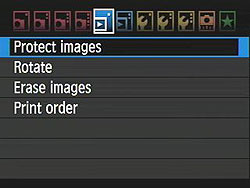 Playback Menu Options: Screen 1

Top-Level
Selection

Second-Level

Third-Level

Notes

Protect Images

-Set

Sets or removes protection mark. Protected images can only be deleted by reformatting the memory card.

Rotate

-Set

Rotates selected image clockwise, either 90 or 270 degrees

Erase Images

-Select and erase images
-All images in folder
-All images on card

-Erase
-Cancel

Erases images.

Print Order

-Sel. Image


-Select image

Marks images on the memory card for later printing on a DPOF (Digital Print Order Format) compatible printer.

-By


-Mark all in folder
-Clear all in folder

-All image


-Mark all on card
-Clear all on card

-Setup

-Print Type (Standard, Index, Both)
-Number of copies
-Date (On, Off)
-File No. (On, Off)
Playback Menu 2:
Playback Menu Options: Screen 2

Top-Level
Selection

Second-Level

Third-Level

Notes

Highlight Alert

-Disable
-Enable

Enables a blinking highlight display in Playback mode

AF Point Display

-Disable
-Enable

If Enabled, the AF point used to set focus appears in red in the image display

Histogram

-Brightness
-RGB

RGB option displays individual histograms for each color channel, brightness shows only a single graph.

Slide Show

-Select images

-All images
-Stills
-Movies
-Date
-Folder


Sets up Slide Show feature. Users can choose to play all folders, one folder, or just photos taken on a particular date. The Menu button stops playback.

-Setup

-Play time
-Repeat

-Start

Image Jump w/ dial

-1 image
-10 images
-100 images
-Date
-Folder
-Movies
-Stills

Selects how image jump works using the Main Dial.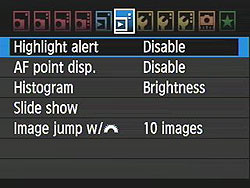 Setup Menu 1: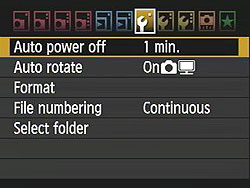 Setup Menu Options: Screen 1

Top-Level
Selection

Second-Level

Third-Level

Notes

Auto Power Off

-1 min.
-2 min.
-4 min.
-8 min.
-15 min.
-30 min.
-Off

Auto Rotate

-On (Record, Display)
-On (Display)
-Off

Record, Display - vertical images are rotated on both the camera's LCD and on the computer. (In applications that understand "Rotate" tags in the files' EXIF headers.)

Display - vertical images are only rotated on the computer.

Format

-Cancel
-OK

Erases all files on card, even protected ones

File Numbering

-Continuous
-Auto Reset
-Manual Reset

Continuous numbers image files sequentially.

Auto Reset resets the numbering every time a card is formatted or a new card inserted.

Manual Reset resets numbering at any time to 0001.

Select Folder

-Select existing
-Create

Creates new folders.

WFT Settings

Displayed only when WFT-E5/E5A wireless file transmitter is attached.

Recording func.+media select

Displayed only when WFT-E5/E5A wireless file transmitter is in use.
Setup Menu 2: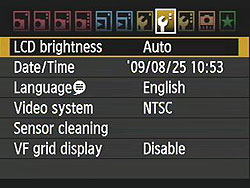 Setup Menu Options: Screen 2

Top-Level
Selection

Second-Level

Third-Level

Notes

LCD Brightness

-Auto (3 ranges)
-Manual (7 levels)

-Set
-OK

Auto uses ambient light sensor to set brightness automatically. Manual allows setting brightness level from dark to bright in seven steps

Date/Time

-Set Date
-Set Time
-Set Display Format

Language

-English
-German
-French
-Dutch
-Danish
-Portuguese
-Finnish
-Italian
-Ukrainian
-Norwegian
-Swedish
-Spanish
-Greek
-Russian
-Polish
-Czech
-Hungarian
-Romanian
-Turkish
-Arabic
-Thai
-Simplified Chinese
-Traditional Chinese
-Korean
-Japanese

Language options may vary by region.

Video System

-NTSC
-PAL

Sensor Cleaning

-Auto Cleaning
-Clean Now
-Clean Manually

Auto Cleaning setting automatically enables cleaning when camera is turned off or on (adds about 1 sec. to time)

Clean Now activates cleaning

Clean Manually locks up the mirror for manual cleaning.

Viewfinder Grid Display

-Disable
-Enable
Setup Menu 3: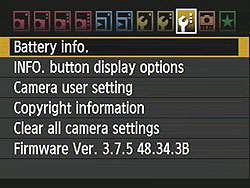 Setup Menu Options: Screen 3

Top-Level
Selection

Second-Level

Third-Level

Notes

Battery Info.

-Press Info button

-Register
-Delete info.

Displays battery type and serial number, remaining capacity, shutter count and recharge performance. Keeps track of multiple registered batteries via serial number.

INFO Button Display Options

-Displays camera settings
-Electronic level
-Displays shooting functions

Camera Setting shows all of the camera settings used to create the image (such as Picture Style, Color Space, etc.).

A dual-axis electronic level display is new for the 7D.

Shooting Functions shows the more basic shooting modes, such as exposure variables, ISO, White Balance, etc.

Camera User Setting

-Register

-Mode dial C1
-Mode dial C2
-Mode dial C3

Registers the current camera settings to one of three available modes.

-Clear Settings

Copyright Information

-Display copyright info
-Enter author's name
-Enter copyright details
-Delete copyright information

Copyright info can be embedded into image files.

Clear All Camera Settings

-Cancel
-OK

Resets all camera settings to default.

Firmware Version

-Update firmware version

Updates firmware version if a properly-prepared CF card is in place
Custom Functions Menu: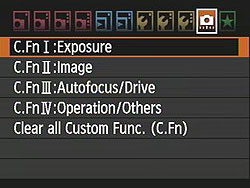 Custom Function Menu Options

Top-Level
Selection

Second-Level

Third-Level

Notes

C.Fn I: Exposure

-C.Fn. I-1 Exposure Level Increments

-0: 1/3-Stop
-1: 1/2-Stop

-C.Fn.I-2 ISO Speed Setting Increments


-0: 1/3-Stop
-1: 1-Stop

-C.Fn.I-3 ISO Expansion


-0: Off
-1: On

On adds "H" 12,800 ISO setting.

-C.Fn. I-4 Bracketing Auto Cancel


-0: On
-1: Off

-C.Fn. I-5 Bracketing Sequence


-0: 0, -, +
-1: -, 0, +

-C.Fn. I-6 Safety Shift


-Disable
-Enable (Tv/Av)

Safety Shift Enable option automatically shifts exposure if brightness changes suddenly.

-C.Fn. I-7 Flash Sync. Speed in Av Mode

-0:Auto
-1: 1/250-1/60 sec. auto
-2: 1/250 sec. (fixed)

C.Fn. II: Image

-C.Fn. II-1 Long Exposure Noise Reduction


-0: Off
-1: Auto
-2: On

-C.Fn. II-2 High ISO Speed
Noise Reduction

-0: Standard
-1: Low
-2: Strong
-3: Disable

-C.Fn. II-3 Highlight Tone Priority

-0: Disable
-1: Enable

Highlight Tone Priority Enable option automatically improves highlight detail by boosting ISO to 200 minimum to get headroom, tweaking tone curve to use more of available range in the highlights

C.Fn.III: Auto focus/Drive

-C.Fn. III-1 AI Servo Tracking Sensitivity

-Slow to Fast in 5 steps

-C.Fn. III-2 AI Servo 1st/2nd Image Priority

-0: AF Priority / Tracking Priority
-1: AF Priority / Drive Speed Priority
-3: Release / Drive Speed Priority
-4: Release / Tracking Priority


-C.Fn. III-3 AI Servo AF Tracking Method

-0: Main Focus Point Priority
-1: Continuous AF Track Priority

-C.Fn. III-4 Lens Drive when AF Impossible

-0: Focus Search On
-1: Focus Search Off

Lens Drive when AF Impossible option tells camera to continue to try and achieve focus or stop, useful with super telephoto lenses

-C.Fn. III-5 AF Microadjustment

-0: Disable
-1: Adjust all by same amount
-2: Adjust by lens

-C.Fn. III-6 Select AF Area Selection Mode

-Disable
-Enable
-Register
-Auto Select: 19 point AF
-Manual Select: Zone AF
-Manual Select: AF Point Expansion
-Manual Select: Single AF Point
-Manual Select: Spot AF
-Apply

-C.Fn. III-7 Manual AF Point Selection Pattern

-0:Stops at AF Area Edges
-1:Continuous

-C.Fn. III-8 VF Display Illumination

-0: Auto
-1: Enable
-2: Disable

-C.Fn. III-9 Display ALL AF Points

-0: Disable
-1: Enable

-C.Fn. III-10 Focus Display in AI SERVO/MF

-0: Enable
-1: Disable

-C.Fn. III-11 AF-Assist Beam Firing


-0: Enable
-1: Disable
-2: Enable External Flash Only
-3: IR AF Assist Beam Only

-C.Fn. III-12 Orientation Linked AF Point

-0: Same For Both Vertical / Horizontal
-1: Select Different AF Points

-C.Fn. III-13 Mirror Lockup


-0: Disable
-1: Enable

C.Fn.IV: Operation/Others

-C.Fn. IV-1 Custom Controls

Function selections for:
-Shutter Button
-AF-On Button
-AEL Button
-DOF Button
-Lens Button
-M-Fn Button
-Set
-Main Dial
-Quick Control Dial
-Multi-Controller

Can assign numerous functions to various controls, buttons and dials.

-C.Fn. IV-2 Dial Direction during Tv/Av

-0: Normal
-1: Reverse Direction

-C.Fn. IV-3 Add Image Verification Data

-0: Disable
-1: Enable

-C.Fn. IV-4 Add Aspect Ratio Information

-0: Off
-1: Aspect Ratio 6:6
-2: Aspect Ratio 3:4
-3: Aspect Ratio 4:5
-4: Aspect Ratio 6:7
-3: Aspect Ratio 10:12
-4: Aspect Ratio 5:7

Clear All Custom Functions (C.Fn.)
My Menu: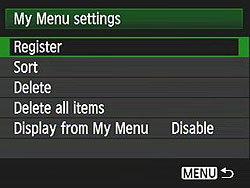 My Menu Options

Top-Level
Selection

Second-Level

Third-Level

Notes

Register

-(Full list of options that can exist in My Menu)

Sort

Changes the order of registered items in My Menu

Delete

Delete All Items

Display from My Menu

-Enable
-Disable

When Enabled, the My Menu tab is displayed first when pressing the Menu button